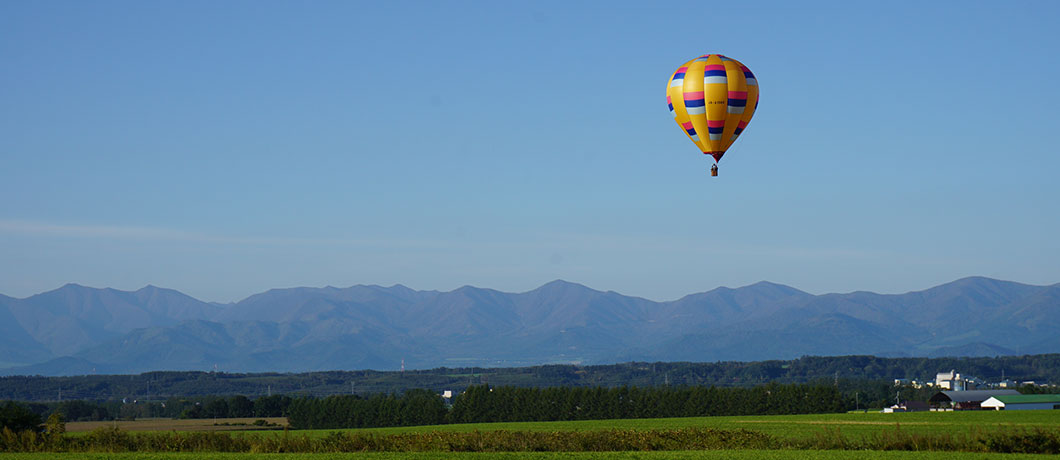 It is a plan according to the request of such customers
I want you to charter during the flight
I want to put a small child together
I don't understand Japanese, so I'd like you to explain in simple English
I can't drive, so I can't go to the meeting place
(※One pilot for operation will be on board.)
Experience the whole Hokkaido from the sky!
Hokkaido standing on the ground is also spacious, but the Tokachi Plain seen from the sky is a masterpiece!
Bright green in summer, patchwork woven by vast field crops, In autumn, the trees that change colors and the clear sky, in winter, the snowy white silver landscape and the clear blue sky of Tokachi are as far as you can see.
You can experience the magnificent nature of Hokkaido from season to season!
Flight is a wonderful memory you will never forget
The take-off location, distance traveled, and landing location will change each time depending on the weather data of the day, the direction and strength of the wind checked at the site, and visibility.
Sometimes they fly over the ground or the river, or touch the trees on a balloon. If the weather conditions are good, the altitude may rise to over 300 meters.
On the day you visit, you can enjoy a balloon with the best flight plan we can think of.
Program contents
Price
Up to 2 people(Total weight limit 160kg)54,000 yen
Up to 3 people(Total weight limit 200kg)66,000 yen
Up to 4 people(Total weight limit 260kg)80,000 yen

For more people (weight), make an individual estimate.
Time required
About 3 hours (flight time is about 30 minutes)
Period
August to April
About application
・Reservations will be accepted from the first day of the month two months ago.
(Example: From June 1st for August)
・Please make a reservation at least 7 days in advance.The reservation may not be accepted because it is already full.
Start Time
June-July 04:00, August-September 05:00, October 06:00, November-January 07:00, February 06:30, March 06:00, April 05:00
※Depending on weather conditions and landing location, it may be around a little.
The meeting place
Shikaoi Town Road Station Urimaku Parking Lot
(3tyoume, Urimakuhinishi, Kato Gun Shikaoi Cho, Hokkaido, Japan)

Free pick-up is only for accommodation in Shikaoi(A little earlier than the meeting time)
When you are finished, you can get off at the accommodation below or the nearest bus stop or taxi stand.

Clothes
Participate in warm clothes and athletic shoes that can be dirty.
(High heels and sandals are not suitable)
Supported language
During the experience, guidance will be provided in Japanese and simple English only, and for safety reasons, it is not possible to participate only for those who cannot understand / interpret.
Payment Method
Payment is made in advance, so please pay by credit card within 3 days of applying.
Once payment is confirmed, the formal reservation is completed and you will receive an invitation email.
If payment is not made within 3 days, the request will be cancelled.
About cancellation
・No cancellation fee will be charged if canceled due to bad weather.
・Cancellation due to customer's convenience will be refunded in full up to 8 days before, and after that, the next fee will be deducted. (30% one week ago, 50% three days ago, 100% on the day)
・If you wish to cancel or change, please contact us immediately by phone or email.
About Weather conditions
If it is expected to rain, snow, heavy fog, or wind speed of 3m / s or more, it may be canceled as of the previous day.
The operation probability is 60 to 70% throughout the year.

Whether it is possible to operate by 18:00 the day before will be decided. Please be sure to contact us for reconfirmation.

If you can not contact the day before, there may be a cancellation fee.
Precautions
The charter is only in flight and may be accompanied by other customers when traveling / preparing / collecting.
About application
Application is accepted as a request on the desired date.
Reservations are made on a first-come, first-served basis, so it may not be possible to make a reservation at the time of your request.
If you can't get it as you wish, we may consult with you about date changes.
We will contact you by e-mail or phone within 2 business days to confirm whether this reservation is accepted.
Precautions
Within 48 hours of your application, we will reply you with the reservation availability and the bill.
The fee will be paid in advance, so please pay in advance with a credit card.
When payment is confirmed, the reservation is complete.
About meeting place
The meeting place will be a parking lot at Shikaoicho Road Station Urimaku. A vehicle loaded with balloon baskets is a landmark. You can park your car.
The travel time from each place is 1 hour by car from Obihiro city and 4 hours by car from Sapporo city.